With decades of experience in street and road construction, we work with you to understand your needs for each project and promise to exceed your expectations.
Why work with West Fork Grinding?
We care ab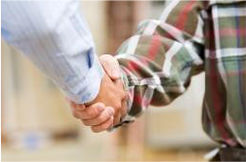 out completing your project on time, and on budget. We have worked in all aspects of the highway construction industry and have improved our processes over the last 35 years and are able to tap into our diverse base of road construction knowledge to make your projects as efficient as possible. For example, did you know that certain traffic control strategies help our workers work faster? This allows us to complete the project sooner and results in less overall expense, increasing your bottom dollar.
We are contractors. We understand your budgets and schedules. We have the experience to work with you to understand your goals, and work with others on the project to get the work done in an efficient manner.
Our machine is larger. More horsepower. A typical bump grinding machine has a three foot head. Ours is four feet. What does this mean? We can finish your road in fewer passes, where the other guy, will need more passes to finish the job. Fewer passes, less money.
So why work with West Fork Grinding?
We have decades of experience
We complete the work on time, and on budget
We work with you to make the project as efficient as possible
We understand your goals, and work as part of your team
Larger machine, faster work